When designing a playground using multiple surfacing types, it's important to consider the age range and abilities of the children who will use the playground, the types of equipment that will be installed,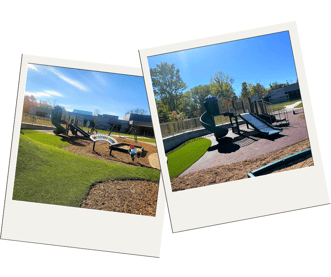 and the safety requirements for each type of surfacing. Choose materials that are durable, easy to maintain, and provide adequate fall protection. Some options for surfacing types include engineered wood fiber, synthetic turf, and poured-in-place rubber. A combination of these materials can create a visually appealing and safe playground for children. Consult with a professional playground designer or safety inspector to ensure that your design meets all necessary safety standards.
Considerations for Designing a Unique Play Space
When planning a playground, it's important to consider safety, accessibility, and enjoyment for children of all ages and abilities.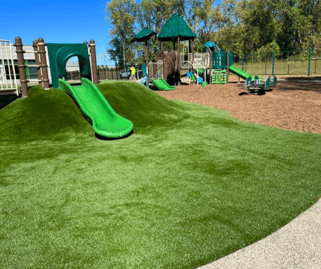 For surfacing, some common options include engineered wood fiber, rubber tiles, rubber mulch, poured-in-place rubber, and artificial turf. Each option has its own pros and cons, so it's important to research and choose the best option for your specific playground. Additionally, it's important to consider factors like cost, maintenance, and durability when making your decision.
Including a variety of surfacing types in the playground's design can make a difference in the space's overall play value. Consider incorporating a more natural surfacing type to a space with characteristics such as trees and rocks or adding a colorful surfacing type to a playground with a playful theme. Surfacing can play a large role in a playground's aesthetic. Surfacing elements, such as mounds, spheres, embedded designs, and games can make your playground come alive. The types of surfacing you choose can make the space's theme pop! Surfacing variety helps create dimension for the space and provides a one-of-a-kind feel.
How Using Multiple Surfacing Types Can Reduce Costs
Using multiple surfacing types for your playground can save you money by reducing the amount of expensive surfacing material needed.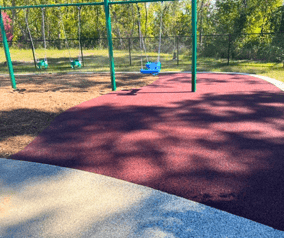 For example, if using poured-in-place (PIP) surfacing is important for the playground's overall design theme, consider using poured-in-place in major surfacing areas only. In other areas of the space, use more cost-effective options like engineered wood fiber or rubber mulch for high-impact areas, like under swings. This can help reduce the overall cost of the project while still maintaining safety standards. Additionally, using different surfacing types can add visual interest and variety to your playground design.
Choose Fibar to Build Your Next Project
Fibar has grown to be one of the leading suppliers of playground surfaces in the U.S., with over 75,000 installations in North America. Along the way, the company has continued to strengthen its professional staff and has established a formal set of Fibar Values, emphasizing Integrity, Respect, and Customer Loyalty. Contact us today to learn more about our playground surfacing and get a quote for your playground. Take advantage of our website resources, such as our FAQs, Online Funding Tool, and Project Gallery for help with your next project!